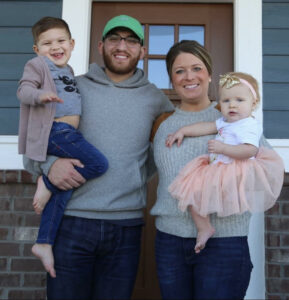 The Herr Family
Congratulations to the Herr Family on being our May 2021 Family of the Month! Ryan and Meghan are the parents of Hudson, who is in our pre-kindergarten 1 class, and little sister Linden. We asked Ryan and Meghan to share a little bit more about their family below.
"Favorite Family Activities:
-Go on bike rides
-go to the beach
-Go to sporting events
-Have Sunday night movie night"
"Ryan is a CPA who does healthcare consulting. He graduated from IU from the Kelley School of Business. Meghan stays home but graduated from Purdue with a Child Development degree."
"We are so thankful to have found Little Lamb! Hudson has grown not only academically, but emotionally from all the amazing teachers and staff! Thank you Little Lamb and we look forward to continuing our education with you."
We are so happy you chose The Little Lamb Christian School! We have loved watching Hudson grow and thrive here!