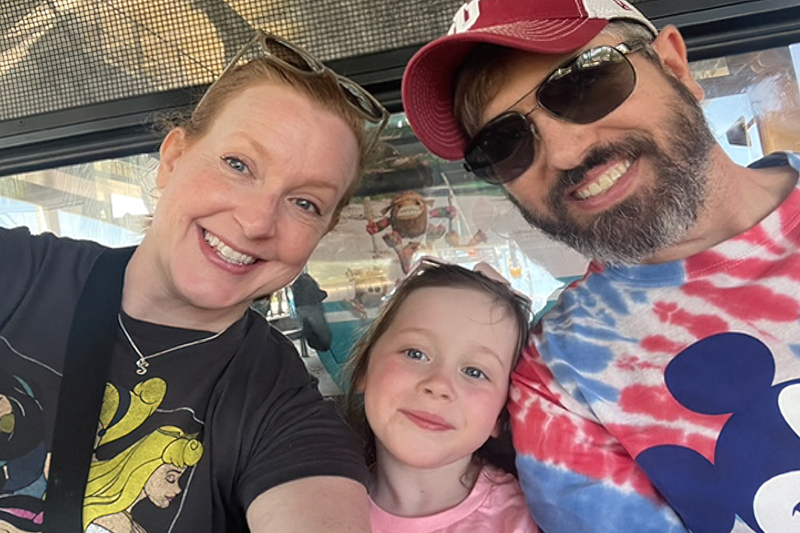 Congratulations to the Dicus Family on being our June 2023 Family of the Month! Brent and Stephanie are the parents of Lucy, who is in our Pre-K 2 class. We asked Brent and Stephanie to share a little more about their family.
"We love to be active! Lucy loves riding bikes or scooters with her friends, and the playground is a must. We ran our first family race at Halloween. Lucy and Daddy have quite the Lego collection which is frequently growing. Lucy has also inherited Mommy's love of Disney (Daddy too). We are blessed to have both sides of the family close by allowing Lucy to spend time with all of her Cousins, Aunts and Uncles, and Grandparents.
Brent is a Logistics Manager for Logistics Insight Corporation and Stephanie is a Learning and Development Manager in the Professional Products Division of L'Oreal.
There is always music playing in the Dicus house and with the exception of Disney music Lucy skipped right over the kids stations. Lucy falls asleep to Jazz, has stuffed animals named after Grateful Dead songs, loves strong women bass players like Susan Tedeschi, and may know a few of the words to the latest Lizzo song! Music will always be part of our lives".
We are so thankful you chose The Little Lamb Christian School for your family!