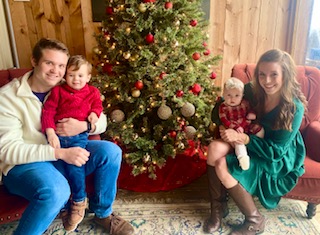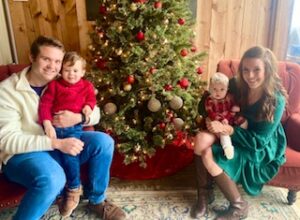 Congratulations to the Edelman Family on being our January 2022 Family of the Month! Jason and Hayley are the parents of Noah, in our Kitties class, and Clara, in our infant room. We asked Jason and Hayley to share about their family below.
"We enjoy taking walks as a family  with our doodle, Elwood. And going to the zoo- no matter what season it is. We also love just staying home, whether we are playing in the backyard or down on the floor playing with the kids' toys."
"Jason is a Sr Supervisor at Roche Diagnostics. And I (Hayley) am an Operating Room RN at Community Surgery Center North."
"Noah is 2.5 years old and loves dinosaurs, all vehicles, dancing in the kitchen with his daddy, baking with his mommy, and Dino Ranch. Clara is 7 months old and loves snuggles, petting her puppy, jumping, and watching her big brother. We have loved our time at Little Lamb and absolutely love hearing about how much our kids love their friends at school."
We are so thankful you chose The Little Lamb Christian School for your family! It is a blessing to be a part of their lives!