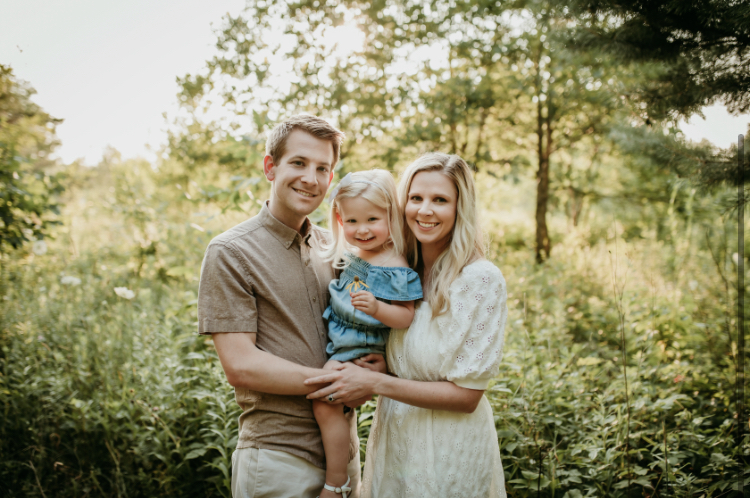 Congratulations to the Schnur Family on being our December 2021 Family of the month! Nick and Amanda are the proud parents of Lilian, who is in our Koala classroom. We asked Nick and Amanda to share a little bit more about their family below.
"We love to take mini adventures whenever we get the chance-we live super close to downtown Carmel so we are able to bike and walk almost everywhere when the weather is nice. Love eating out and live music-can be found often at Urban Vines or SunKing on the weekends. We never miss a summer farmer's market Saturday-we usually get some produce, eat breakfast there and watch as Lilian dances to the music. We sometimes go bowling. Lilian would say we always go camping-we have been once and I guess she loved it. We love watching sports-Purdue and the Packers. We also love watching movies-especially during the holidays….we have been watching Christmas movies for a few weeks now already. Lilian and Amanda sometimes will bake yummy treats to give away, while Nick does all the cooking in the house. In the summer we like to hang out at the pool-Lilian likes the pool…mom and dad like the adult beverages and food. We really like to do all the seasonal and activities that are available in the area-we go to the Children's museum all the time, will be going to Newfields for the Christmas lights, riding the Sullivan's Christmas train to see Santa and doing other holiday activities in the next few weeks. We are a Disney family!!! We go at least twice a year and if we could go twice a month we would still want to keep going. We just recently went over Halloween weekend."
"I, Amanda, am a general dentist. When we first moved to the area I practiced in Westfield but purchased my own practice in the Castleton area in 2019. I absolutely love my job and what I get to do each day. I get to watch families and individuals grow over time and establish a close relationship with them in the process-it is great! Nick is the director of FP&A (financial planning and analysis) at NextGear Capital in Carmel.  He has worked there for over 10 years in several finance roles.  He really enjoys his job and the team he gets to work with.  He has worked from home since March 2020, which he also enjoys!"
"I, Amanda, am originally from Wisconsin. Attended Purdue for undergraduate and graduate school before attending the University of Kentucky for dental school. My parents still live in my small hometown of Delavan, WI. I have two sisters. One lives in rural Iowa with her son who is Lilian's age. My other sister just recently moved to Philadelphia for a post-doctorate role in pharmacy. Nick is from Newburgh, Indiana. After attending Purdue he starting working here in Carmel and we have never left! Most of Nick's family on both sides still live in the southern Indiana area. Nick has two older brothers who have seven kids between them."
We are so thankful you chose The Little Lamb Christian School for your family. It is a true joy to have Lilian at our school!