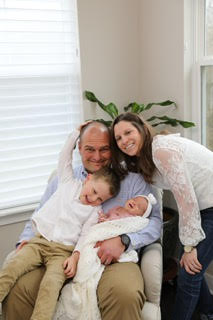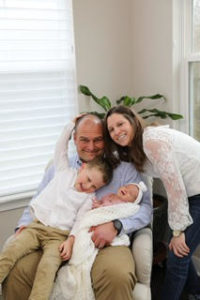 Congratulations to the Mueller Family for being our August 2020 Family of the Month! Pete and Samantha are the parents of Albie, in our pre-kindergarten, and Adeline, in our infant room. We asked Pete and Samantha to share a little more about their family below. 
Favorite family activities:
"Our family activities have recently evolved with the addition of baby Ada and COVID. Now that playgrounds are back open, we have enjoyed exploring new parks around the Indianapolis area and spending time splashing in the river while we fish."
Place of work: 
"Samantha is a vestibular audiologist in Indianapolis and Pete has a background in entomology and serves as president of a fumigation company specializing in food and grain production based out of Westfield."
"We are grateful to all of Albie's teachers that have participated in developing his fun and loving personality. Listening to his stories of adventures with friends are the best part of our days. We are excited for Ada to begin her own journey at Little Lamb as well."
Thank you for choosing The Little Lamb Christian School for your family! What a blessing it is to watch your children grow!